The Sabha provides the services of Purohits for the benefit of its members and the Hindu community in Singapore. At present, there are three purohits who provide the religious services.
OUR PUROHITS
| | |
| --- | --- |
|   | Sri Dhinesh Sastrigal |
|   | Sri Suresh Sastrigal |
| | Sri Vijayakumar Sastrigal |
DAKSHINA
Sabha has two lists of recommended Dakshina rates – one for its members and the other for non members. 
Members: Click here to see the member dakshina rates (member login required)
Non-members: Please contact our Purohits or MC members for non-member dakshina rates.
Purohits will issue receipts for the full amount of Dakshina paid by the karta.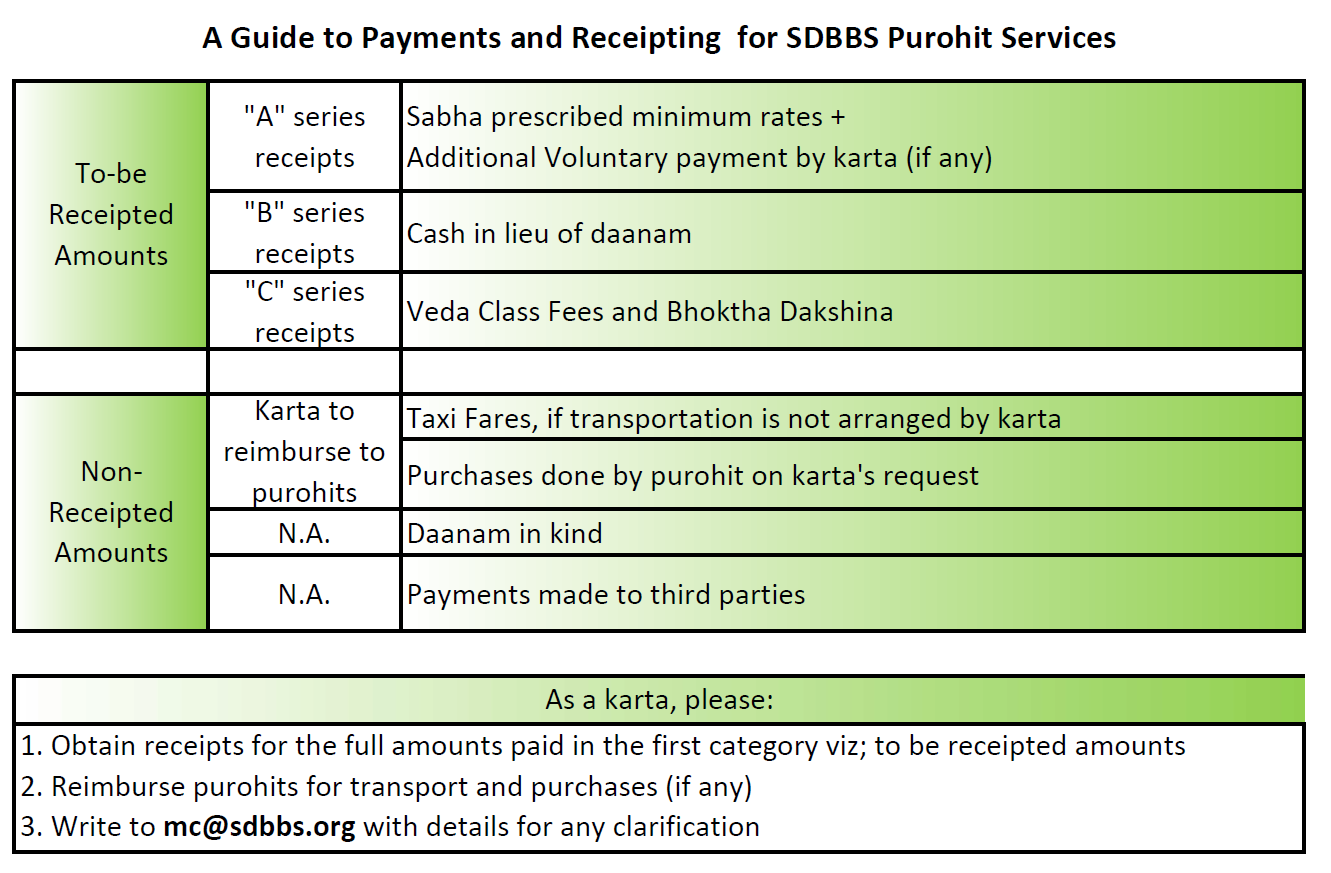 PUROHIT CONTACT TIMINGS
Purohits will be available at Veda Nivas on Amavasya day from 6:30 am to 10:30 am for tarpanam. If you plan to come after 10:30 am, kindly contact the purohits earlier for an appointment. This will ensure that other kartas who have bookings are not inconvenienced.
Members are requested to contact our purohits only between 9:00 am and 9:00 pm; unless it is an emergency. Our purohits will attend to your call during these hours, subject to them being free.
We request you to extend the courtesy of not contacting our purohits during odd hours. This will enable them to rest and be prepared to fulfill their duties the following day.
ON INTERACTIONS WITH PUROHITS
From our traditional perspective, the purohits enjoy the position of an Acharya and are to respected at a higher level.
From a civil perspective as well as keeping with the guidelines of the Ministry of Manpower, as employees of the Sabha, our purohits have the right to a safe work environment.
Sabha urges all the members and Kartas to ensure that the Sabha Purohits are accorded due respect.
Sabha will not tolerate any abuse of our purohits and reserves the right to refuse services to such kartas and to consider other measures.
If you have any queries or wish to provide a feedback on Purohith services, please reach out to the MC at mc@sdbbs.org